Internet-Zeitschrift für Kulturwissenschaften
17. Nr.
September 2010

---

Sektion 1.3.
Re-writing linguistic history – (post)colonial reality on the fringes of linguistic theories
Sektionsleiter | Section Chair: Eric A. Anchimbe (University of Bayreuth, Germany)
---
Oracy in Nigerian English-based Pidgin as a product of colonial encounter
Bassey Ekpenyong (Cross River University of Technology Calabar, Nigeria)
Email: drbaekpenyong@yahoo.com
Abstract

This paper focuses attention on the Nigerian English-based Pidgin as a language with its phonological system arising from its emergence as a contact language. The paper seeks to establish that the language justifiably exists more identifiably in the oral medium, than in writing due to dearth of a standard writing form for it. The conclusion is a call for the development of its orthography as a means of enhancing its development and wider application as a language of unity and commerce.
1. Background
In the past three decades, research in Pidgin and Creoles constituted a focal point of interest to linguists, sociologists and teachers of English in Nigeria. Initially, the research was directed at explicating the origin and evolution of these linguistic phenomena. The great debate centred on the question: Are Pidgins languages in their own right or dialects of the base languages that contribute the bulk of their vocabulary?
Among the criteria applied in leading the debate to an incontestable conclusion are the availability of Pidgin vocabulary, the need for translation and the existence of distinct phonological and syntactic systems. In most of these considerations, researchers have proved that Pidgin have separate lexicons, morphological systems, syntactic structures, and phonological elements. It is based on this understanding that researchers in Nigeria have approached Nigerian Pidgin English. A pioneer work, Mafeni (1971:95-112) entitled "Nigerian Pidgin", became an exciting incitement into the whole question of whether there existed something to be called Pidgin in Nigeria. In a descriptive sketch, the author isolated lexical items, phonological features and grammatical descriptions that were exclusive to Nigerian Pidgin quite against popular belief that if Pidgin existed in Nigeria, it was a bastardised, marginal, uncivilised, and debased variety of English.
Following Mafeni (1971), other researchers have come out with findings pointing to the existence of the English-based Pidgin in Nigeria. These include Adekunle (1974), Todd (1974), Faraclas (1984), Ifode (1984), Unoh (1986), Odumuh (1986), Ekpenyong (1992), and Jowitt (1991). By far the most significant work on Nigerian Pidgin is Elugbe and Omamor's (1991) Nigerian Pidgin.
A careful survey has revealed that writers who mention Nigerian Pidgin as 'obiter dictum' have fallen into the temptation of labelling it as a variety of English while major research carried out on the subject present it as a full-fledged language. For example, Ekpenyong (1992) uses sentence (1)-(3) to point out that Nigerian Pidgin differs from English both in syntax and in vocabulary.
'I welcome you' (Standard Nigerian English)
'I give you my greeting' (Non-Standard Nigerian English)
'Ai troway salute' (Nigerian English-based Pidgin)
To a non-Nigerian speaker of English, the use of 'troway' and 'salute' cannot convey mutual intelligibility. This lack of mutual intelligibility is also illustrated by Todd (1974:7) as follows:
'I was standing at the corner gossiping' (Standard English)
'I was stood at the corner gossiping' (a dialect of English)
'A bin tanap fo kona a bin di ko nagsa' (Pidgin)
Pidgins are products of languages in contact. The Nigerian English-based Pidgin emerged as a hybrid of the Nigerian indigenous languages and English during the trade contact between Nigerians and the British. Nigerian Pidgin has English as its chief lexifier while its phonological features relate to Nigerian languages and English. Elugbe and Omamor (1991:10) explain that:
The burden of communication was on Nigerians. They set the pace. They preferred the English words possibly because they saw the English as superior, the English were reluctant to learn the indigenous languages. They however put the words on the structure of their native languages which mostly existed in the oral medium, hence Pidgin flourished in oracy, making spelling and the written grammar a non-issue.
A better understanding of the hybridization process demands a survey of some aspects of the phonology of the language.
2. Phonology of Nigerian-English Pidgin: A Survey
Many researchers have looked into the sound system of the Nigerian Pidgin English. Among them are Mafeni (1971), Oyebade (1983) and Elugbe and Omamor (1991). Most of them admit the sketchy nature of their explications partly due to dearth of comprehensive data or the fast developmental trend of the language or the multiplicity of regional and ethnic variations. However, there are a number of identifiable features that cut across most of the analysis and that deserve our attention here in explaining the working of the language. At the segmental level, the Nigerian Pidgin has seven oral vowels /i, e, a, o, u/ as in Table 1.
Table 1: Nigerian Pidgin vowels
Vowel
Nigerian Pidgin
English words
i
/sid/
sit, seat, seed
e
/tebul/
table, snake, bait
a
/had/
hat, heart, hard

ɔ

/h

ɔ

t/
hot, hurt
o
/gol/
goal, gold
u
/fud/
food, foot
e
/ben/
bend, ten, bet
Table 2 compares English pure vowels with vowels from ten randomly selected Nigerian languages: Ibibio, Igbo, Ijaw, Hausa, Fulfulde, Itsekiri, Nupe, Tiv, Urhobo and Yoruba. The aim is to underscore the influence of these languages on the phonological system of Nigerian Pidgin English.
Table 2: English pure vowels and vowels of ten Nigerian languages
1
i:

2
I:

3
e:

4
æ:

5
ɑ:

6
ɑ:

8
u:

9
u:

10
ʌ:

11
ɜ:

12
ə:

Ibibio

-

I

E

ɑ

-

-

-

u u

u

ʌ

ɜ

ə

Igbo

I

I

E

ɑ

-

-

-

u

u

-

-

-

Ijaw

i

I

E

ɑ

-

-

-

u

u:

-

-

-

Hausa

i

I

E

-

-

-

-

u

u:

-

-

-

Fulfulde

i

I

e

ɑ

ɑ

-

-

u

-

-

-

-

Itsekiri

i

-

e

ɑ

ɑ

-

-

u

-

-

-

-

Nupe

i

-

e

ɑ

ɑɑ

-

-

u

-

-

-

-

Tiv

i

-

e

ɑ

-

-

-

u

-

-

-

-

Urhobo

i

-

e

ɑ

-

-

-

u

-

-

-

-

Yoruba

i

-

e

ɑ

-

-

-

u

-

-

-

-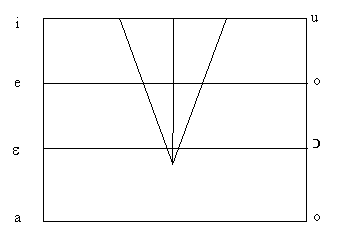 Figure 1: Cardinal Vowel Chart
A survey of Tables 1 and 2 and Figure 3 indicates that Nigerian Pidgin has less pure vowels than English. It has the same number with the ten Nigerian languages represented in Table 2. In particular, the vowel /o/ which is found in Nigerian Pidgin as in on (own), ton (tone) go (go), and in Ibibio as in owo (human being), eto (wood) is an example. The Pidgin vowels are describable in relation to the cardinal vowels as follows:
| | | |
| --- | --- | --- |
| i | | CV1 |
| e | | CV2 |
| ε | | CV3 |
| ɔ | | CV6 |
| o | | CV7 |
| u | | CV8 |
This confirms that the language has its own sound system with identifiable phonetic potentials, which cannot be said to be absolutely the same with English or any Nigerian language. In this light, Oyebade (1983) and Elugbe and Omamar (1991) also identified some diphthongs in Nigerian Pidgin. These include: /ai, au, iε, iɔ and ɔi/. Some of these vary among speakers depending on their linguistic backgrounds. For example, the less anglicized articulations of /ai/, and /ɔi/ indicate/ ae, ao / and /ɔe/.
Nigerian Pidgin has about twenty-five consonant sounds: /m, n, ŋ, ŋw, p, b, t, d, ts, dʒ, k, ɡ, kp, f, v, s, z, l, ʒ, λ, j, w, h/. Most of these sounds occur in English except /kp, gb; and ŋw/. The first two /kp, gb/ occur in Nigerian languages like in the Ibibio word, kpɨkke (cut), and in the Igbo word, egbe (masquerade). In Nigerian Pidgin, we have kposa (openly) and egbe (stupid person). The sounds /ŋw/ and /ŋ/ are realised as [ŋwin] for English win and [ŋaʃ] ngash for English buttocks.
At the supra-segmental level, Elugbe and Omamar (1991:88) submit that Nigerian Pidgin has features of English and Nigerian languages. It is a pitch-accent language operating on a phrase-pitch system similar to the English intonation pattern. It also exhibits two basic tones (high and low) like Nigerian languages.
A lot of arguments have trailed this assertion with none of the leading researchers undertaking comprehensive data processing to elucidate the claims beyond doubts. We may agree with Oyebade (1983) that Nigerian Pidgin is at the same time a tone language and a stress language.
This position justifies the fact that the phonology of Nigerian Pidgin is neither absolutely English nor Nigerian language-based but a unique product of hybridisation occurring at both the segmental and supra-segmental levels.
3. Other oracy features in Nigerian Pidgin
Simplification is an important feature of pidginisation. In this process the morphology of the contact languages are relieved of inflection and derivation. The English-based Pidgin in Nigeria has separate articles for expressing tense, case and number rather than inflectional particles, for example:
| | | |
| --- | --- | --- |
| De bobo de ko̦m | – | The boy is coming |
| De bobo dem de kọ̩̩m | – | The boys are coming |
| I go kọ̩̩m | – | I will come |
| I go de kọ̩̩m | – | I will be coming |
Also, Nigerian Pidgin words have developed from the phonological adaptation of borrowed English words. The main pattern of adaptation, as the following examples show is reduplication:
| | | |
| --- | --- | --- |
| Ben-ben (adjective) | – | full of bends |
| blo-blo (noun) | – | balloon |
| krai-krai (adjective) | – | likes crying |
| bie-bie (noun) | – | beard |
Most of the Nigerian Pidgin expressions used in Nigerian literature written in English are used by characters of low social status and almost always in dialogues which represent conversations reduced into writing. The implications of these are that the authors are dissociating themselves from that form of speech and they are running away from the blemishes of unacceptable spelling arising from inconsistency.
Nigerian Pidgin is not used anywhere in Nigeria for educational purposes. This is so because the language does not have a standard orthography, a standardised grammar, or generally accepted dictionary (not even a bilingual one). To compound matters, the government does not mention it in the language section of the National Policy on Nigerian Education.
The language exists basically in the spoken form in Nigeria. It appears that it has managed to sustain a virile and vital oral literature. It has been used as a vehicle for songs, folktales, proverbs, work-chants and phatic communion. In fact, in phatic communion, it has flourished in all strata of the society. For example, two professors of English meeting in a conference are likely to exchange pleasantries by saying:
'How you de?'
"Long time no see"
"You don see Prof. Okon?"
"Dem don give una excess workload for dat side?"
Also in churches today, it is common to hear gospel songs such as:
"Satan don fall for gota, macha macha"
"People de ask me say, na wetin de mek you fine,
I just de tell dem say na Jesus de make me fine,
I de fine, I de fine, I de fine ...".
There are reasons for the present state of the language. One is that the language is still in its infancy in Nigeria. It has not yet really become a Creole. Two, and by far the most important, there is no clear orthography to direct the spelling, writing or translation in the language. Three, even though the language is the one with the highest number of speakers in Nigeria, the people and government of Nigeria are still reluctant to accord it any specific role as is the case with English, Hausa, Yoruba and Igbo. Here the bias is that Pidgin has a stigma of being lexified by a language of colonialism (English), and it is also seen in some quarters as a reflection of intellectual inferiority, probably because the bulk of its users are of the lower stratum of the society. A variety of English in Nigeria, called Broken English is now competing strongly with Nigerian Pidgin. Broken English is closer to English in both lexis and grammar. It must be remarked here that it is socially less acceptable than Pidgin in Nigeria. This is because it is replete with grammatical errors, unacceptable usages and deviance which impede mutual intelligibility.
4. Conclusion and recommendation
We have established that Nigerian Pidgin English is a language in its own right with a system of phonology that is neither absolutely English nor Nigerian language-based. The language also exhibits other features which strongly indicate that it is evolving through the oral stage to a status of writing. We have accounted for its present state in terms of the negative attitude of the government to the language. Most importantly, we have identified the absence of an orthography as the main reason for the dearth of written literature in the language: a development that leaves it lagging in the oral medium and largely unfit for use in the educational system.
We recommend that linguists, the government, and schools should be involved in providing an acceptable orthography for the language to give it consistency in spelling and usage, and encourage its use on a wider spectrum.
References
Adekunle, Moblaji (1974) The Standard Nigerian English in Socialinguistic Perspective. In Ebo Bahakwe (ed.) Varieties and Functions of English in Nigeria. Lagos: NESA and AUP.
Elugbe. B. and Omamor A. (1991) Nigerian Pidgin. Ibadan: Heinemann Educational Books.
Ekpeyong, B. (1992) The Syntax of Nigerian English-Based Pidgin: A Systemic Analysis. (Unpublished M.A. Thesis).
Faraclas, N. et al (1984) Rivers State Pidgin English. Journal of Linguistics Association of Nigeria 1: 187-198.
Fromkin V. and Rodman R. (1983) Introduction to Language.New York: Halt, Rinehart and Winston Ltd.
Ifode, S. (1984) Is Nigerian Pidgin Creolising? Journal of Linguistics Association of Nigeria 2: 199-203.
Jowitt, D. (1991) Nigerian English Usage. Longman: Ibadan.
Mafeni, B. (1971) Nigerian Pidgin. In J. Spencer (ed.) The English Language in West Africa.London: Longman, 95-125.
Odumuh, A. (1986) The Future of English in Nigeria. In S. Unoh (ed.) Use of English in Communication.Ibadan: Pectrum Books Ltd.
Oyebade, F.O. (1983) Aspects of the Phonology of Nigerian Pidgin English. (Unpublished M.A. Thesis, University of Ibadan).
Unoh, S.O. (1986) Cultural Development and Nation Building. Ibadan: Spectrum Books Ltd.
Todd, L. (1974) Pidgin and Creoles. London: Routledge and Kegan Press.
---
1.3. Re-writing linguistic history – (post)colonial reality on the fringes of linguistic theories
Sektionsgruppen | Section Groups| Groupes de sections
---
---
For quotation purposes:
Bassey Ekpenyong: Oracy in Nigerian English-based Pidgin as a product of colonial encounter - In: TRANS. Internet-Zeitschrift für Kulturwissenschaften. No. 17/2008. WWW: http://www.inst.at/trans/17Nr/1-3/1-3_ekpenyong17.htm
---
Webmeister: Gerald Mach last change: 2010-09-11
---