Nr. 18    Juni 2011 TRANS: Internet-Zeitschrift für Kulturwissenschaften
---
Section | Sektion: Johannesburg in Literature
Nat Nakasa: an African Flaneur
Heather Acott [BIO]
Email: macott@iafrica.com
---
 Konferenzdokumentation |  Conference publication
---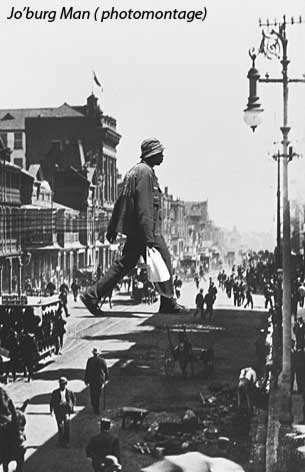 Jo'burg Man, a photomontage by artist Arlene Amaler-Raviv and photographer Dale Yudelman (left), is one of the artworks selected to decorate buildings in downtown Johannesburg in 2002 as part of a campaign for inner-city renewal.  Although it is not a picture of Nat Nakasa, it captures the sense of ownership and the contemporary idea of walking the city found in his writing.  This powerful construct of an anonymous working class man striding confidently into the future across an urban landscape, is a picture redolent with modernist assertions of the city's possibilities, the man a metaphoric giant, dwarfing the built environment.
Nat Nakasa is often viewed as being both a hero (ignoring and surviving the restrictions of apartheid) and a victim (taking his life in despair at his exiled status); but there is another, modernist perspective of Nakasa, and that is as flaneur. The flaneur, the city stroller who looks without touching, whose level of engagement is largely visual, has been described as a phenomenon of the cities, emerging particularly in Europe in the mid-nineteenth century in the work of Charles Baudelaire, and subsequently in his twentieth-century German critic Walter Benjamin.  As a literary construct, the flaneur owes its origins to the Parisian Prowler of Baudelaire; a man (and it is usually a gendered pursuit) who wanders aimlessly through the city, a voyeur, possibly a dandy, petty bourgeois, loitering without intent, enjoying the sophistication of city lights by night, an anonymous consumer of spectacle who looks without touching but who retains some sympathy for the outcasts of the city; part detective, part sociologist, part journalist, part rogue male free from domestic constraints, and in more recent times, part tourist.
clear all>
Nakasa not only worked on Drum magazine in the late 1950s and early 1960s; he was also appointed as the first black columnist on the Rand Daily Mail, and moved on to become the founding editor of The Classic, a non-political literary journal in which he undertook 'to seek African writing of merit', regardless of the race of the contributor. In 1964 he was awarded a Nieman Fellowship to study at Harvard University, but had to leave South Africa on an exit permit for the United States as the South African government refused him a passport.   In 1965, after a year in America, he committed suicide, probably because of his exile.  His refusal to accept the racial and spatial boundaries of that time anticipate Rainbow Nation inclusivity and have earned him an iconic status: a major journalism award was named after him – the Nat Nakasa Award for Media Integrity; he has also received the State President's Order of Ikhamanga in Silver for excellent achievement "in the field of arts, culture, literature, music, journalism or sport", yet his writings have in recent years been ignored, failing to garner either popular or academic interest.
Nakasa arrived in Johannesburg in 1958 to find the segregated city of Nadine Gordimer's second novel, World of Strangers, a society that German photographer Jurgen Schadeberg (2001:1) described as 'two societies running parallel, without any communication whatsoever.  There was an invisible wall between the two worlds.'   In the mid-twentieth century Johannesburg consisted of a grid-based centre surrounded by dormitory suburbs, both the affluent like Houghton, and the working-class like Soweto; a city which was closer to other cities of the New World than to those of Europe, but also a city on the brink of a major exercise in social engineering and urban planning in the name of racial segregation.   Apartheid denied Nakasa access to white suburbs, a denial he observed largely in the breach.  From the start, his reaction was that 'the best way to live with the colour bar…was to ignore it.' (1975:5).  Gordimer (1975: xxiii-xxvi) describes this as Nakasa's 'period of no fixed abode…homeless and yet curiously more at home in Johannesburg than those behind their suburban front doors…Nat belonged not between two worlds but to both of them'. 
In an often quoted column entitled "Johannesburg, Johannesburg" (1975:3), he describes his arrival thus: 
I had travelled from Durban, over four hundred miles by train, to start working as a journalist.  After work I often slept on a desk at the office or stayed overnight when friends invited me to dinner in their homes. 
This was not because of a Bohemian bent in me.  Far from it.  According to the law, 'native' bachelors are supposed to live in hostels in Johannesburg.  I should have shared a dormitory with ten or more strange men…Instead of this, I chose to be a wanderer. I didn't really want a hostel bed', …Thus, for roughly eighteen months, on and off, I wandered about without a fixed home address.  I determined to make the best of it.'
By claiming the city and its suburbs as his own, Nakasa's peripatetic experience of his adopted city are those of the flaneur – urban, individualistic, a solitary stroller.(1)
Few Africans living in mid-twentieth century Johannesburg owned their own transport, so that by both choice and necessity they were either pedestrians in the streets of city and township, or used trains, buses and taxis.  Nakasa captures this street-level experience, walking the city in random excursions that differ in intent from the more structured derive of Guy Debord's psychogeographers, who were operating in Paris at much the same time as he was writing in Johannesburg.
Nakasa's journalism honours the tradition of the spectator that goes back to Addison and Steele; his city sketches are those of a 'painter of the passing moment and of all the suggestions of eternity that it contains' (Mazlish 1994: 48).  This is not the stroller of Cape patois, who is a street-wise petty thief and vagrant; the flaneur operates on a different plane, a sauntering 'botanist of the asphalt' with a magpie collection of anecdotal vignettes, exploring public rather than private space.
His roving brief gave him ample opportunity to collect specimens of the demi-monde, the black world largely unknown to white readers.  These survive in a range of cameos, from the famous, like legendary boxer King Kong, penny whistler Spokes Mashiane, and Winnie Mandela, to Aunt Sallie of the eponymous shebeen, as well as the anonymous crowds on the trains.  When he describes the crowded trains and taxi violence it is as an observer; he is not a regular commuter, and while expressing a sympathy for suffering he distances himself from the masses:
They spoiled my image of Johannesburg as the throbbing giant which threw up sophisticated gangsters, brave politicians and intellectuals who challenged white authority.  This image of Johannesburg survived best at night. (1975:5)
 Terry Eagleton (1981: 25-26) similarly describes the flaneur, who 
fights a losing battle against the crowd's impersonality, struggling to maintain his sang froid in the rush, imbuing the masses with the last tattered vestiges of an aura he will then be able narcissistically to recoup from it… his faltering gaze strives to aestheticize the city.
Nakasa's arrival in Johannesburg was in the aftermath of Alan Paton's Cry the Beloved Country and other cautionary tales of the Jim comes to Jo'burg variety, but he does not present himself as a country bumpkin overwhelmed by the evils of fast living and loose women, and he is clearly enchanted by his adopted city. 
Fortunately, like most young men from the smaller towns in South Africa, I was thrilled by simply being in Johannesburg.  While others made for their homes hurriedly at the end of the day, I took long leisurely walks from one end of the city to another. (1975:4)
This understatement belies his skill in avoiding the 'white by night' curfew, and in avoiding arrest for a pass law offence.  In comparison, the 'dompas' is a malign trope in works by Nakasa's successors (Serote, Gwala and Sepamla), who illustrate the frustrations and anxiety of lives constrained by the need for black people to carry this pass at all times. 
Nakasa is an adroit teller of tales, recounting briefly and with humour incidents that illustrate the subversive ruses that De Certeau calls the survival tactics of the weak; for example, he describes his experience of ordering coffee at the Texan, a restaurant in downtown Johannesburg reserved for whites only:
The Texan's son went to fetch the coffee, obviously expecting us to drink it on the pavement, anywhere outside the bar.  Meanwhile, my friend and I began to talk loudly about President Eisenhower's portrait. 'Look at the bum', my friend started…'there is something seriously wrong with America's choice of its heroes…By the time the Texan's son brought our coffee, his father was embroiled in violent argument with us, all about Ike…The argument was still raging when we finished drinking the coffee and left.  Nobody seemed to remember the colour bar. (1975:6)
These anecdotes frequently question the orthodoxies of apartheid.  In addition to his brief sketches of street-level public life in Johannesburg, he also speculates, for Rand Daily Mail readers, on how white South Africans might react to a variety of situations if the tables were turned. There would be a major uproar, he said, if only a handful of white men were compelled to have their lunch sitting on a pavement in Commissioner Street. There would be a public outcry if white children were forced to earn a few cents playing penny whistles in the city centre.  Commenting on the signage of segregation, he asks, 'How would whites react to signs that said "Whites and dogs not allowed" or "Hawkers and whites use Back Entrance"?…The thought of it excites me, for I know of no other way in which we could get people to begin to think.'  Conversely, he discusses the Afrikaans painter, a man of compassion, who rescues a newborn black baby abandoned on the pavement, and who also invites Nakasa to stay with him, but who yet votes Nationalist, because "I am an Afrikaner.  The National Party is my people's party".
Nakasa's columns and features appear to reflect his own experience; but his narratives are often ironic, possibly allegorical, and spiced with colonial mimicry. After his arrival in Johannesburg, he pretends to apply for a room in a hostel for black bachelors:
I remember trying once, just for the hell of it.  I picked up the telephone and spoke in a faked Oxford accent.  'My name is Brokenshaw', I said, 'is there a vacant bed in your hostel by any chance?'  'Yes, we have some beds', the voice at the other end answered.  It must have been the white superintendent. 'But I must explain to you that we are only taking special boys now'…  'Jolly good, I said, 'my boy is actually quite special.  He has to remain in town till quite late from time to time.  He is a journalist.' (1975:4)
He frequently mocks this code switching, as a 'white' voice in a black skin, that is also a survival tactic.  In "Shopping can be a bruising business" he remarks:
I never know whether to speak fanagalo or proper English when I place my order for a pencil or a pair of shoes.  Some 'madams' prefer 'boys' to speak broken English, others don't. (1975:19)
Incidents like this shopping expedition, when he enters an exclusive department store and tries on expensive men's clothes, fuelled Nakasa's detractors; his upwardly mobile instincts at odds with his more radical contemporaries and their concern for the liberation of the working classes.  The apparent aimlessness of this excursion, however, belies another level of consumerism; 'as Benjamin suggested', writes David Frisby (2001:12-13), 'the flaneur may appear to be strolling aimlessly but is, in reality, in search of a market for his or her images of the city…a neglected dimension of flanerie is revealed, namely the flaneur as producer (of texts, images, etc.).'  Inasmuch as he was a paid and commissioned columnist, Nakasa was not seeking a market as a consumer so much as supplying it with a commodity, namely his views on Johannesburg. 
Rob Shields (1994:62) likens this hunter/gatherer aspect of the flaneur to that of an 'urban native', a distant cousin of the noble savage, a tracker and detective; but lacking a stable identity, 'the notion of flanerie is essentially a literary gloss…uneasily tied to any sociological reality…as much mythic as…actual'.  The flaneur is in part trickster and artful dodger, satirist and indolent saunterer, celebrating the carnivalesque.  Nakasa, for example, describes the public revelry of non-racial audiences drawn to Zoo Lake by the performances of penny whistler Spokes Mashiane, an appropriation of 'acoustic space' that Michael Titlestad (2002) describes as a subversive challenge to authority.    
Instead of presenting a panoptic vision of Johannesburg, Nakasa's city is a random and  kaleidoscopic composite.  Images of a society wedding rub shoulders with descriptions of proletariat life in the township, its crowding and crime, a life that he shared only briefly, more as voyeur than as victim; though he remarks that, unlike visitors such as foreign correspondents, he is unable to approach Johannesburg with 'the attitude of a disengaged visitor…I am part of Johannesburg' (1975:3). His choice of subject and his entrée into different levels of society make him a man of that time, much like the subject of O'Henry's short story of the Man About Town.
In his column entitled "Why taximen are terrified", his focus is the taxi wars and the  'string of taximen who had been attacked, killed, robbed by hooligans' (1975:30).  "Victims of the knifeman"describes the bloody trauma of the casualty department in Baragwanath Hospital (1975:33-35).  'The tendency to treat Africans as labour and not as individuals, human beings with human sentiments and desires, is devastating', Nakasa writes in"Mental Corrosion".  'Among the hardest hit are family men who, only five years ago, had to demolish their homes in Sophiatown.  They built new homes in Soweto or moved into Government-built houses and began improving them at great expense.'(1975:35).  This is one of his few references to the corrosive urban planning that started in Johannesburg shortly after his arrival in the late 1950s.  His colleagues on Drum magazine had romanticized Sophiatown as a multi-racial enclave within the borders of Johannesburg, but Sophiatown is largely absent from Nakasa's columns.  Instead, he writes about the dormitory suburb of Soweto.  In "Snatching at the good life" (1975:25-26) he describes this sprawling township: 'At a glance, Soweto looks dull and lifeless.  Almost all the houses are built to the same pattern…small match-box cottages separated from each other by wire fencing…One man complained to me that neighbours tend to keep to themselves in Soweto because their homes are fenced in and each has its private toilet.  It's not like Sophiatown, were you used to meet your neighbour for a chat as you went to the communal lavatories'.  Yet despite the uniformity and lack of electricity, he remarks that 'Soweto lives.  It lives precariously, sometimes dangerously, but with a relentless will to survive', with large American cars and occasional drinking sessions used as visible indicators of some degree of affluence. 'People live haphazardly, in snatches of a life they can never afford to lead for long, let alone for ever'.
In "Must we ride…to disaster?" he refers to overcrowding on the trains, and 'the old women who failed to make the grade in the scramble' (1975:27).  This experience is, for Nakasa, an extraordinary event, undertaken as part of his research for his newspaper column; not a regular commuter, his quest lies in the seemingly aimless journey itself rather than any destination.
 
Herein lies much of the paradox of Nakasa's insider/outsider position; that as a black man in apartheid-era South Africa, he was both mobile and visible while also being part of a prohibited and marginalized majority. His flanerie is not only topographical, and Nakasa navigates adroitly between his role as detached observer and newspaper columnist, between white privilege and black oppression, exploring the sutures that both united and divided this society, in the process challenging the binary nature of othering that was intrinsic to the partitioned state.
His critics both celebrate his humanism and label him an Uncle Tom sell-out.  Aggrey Klaaste (1988: 5-6) describes Nakasa's writing as 'cunningly liberal, bitingly apologetic.  He took careful digs at his personal situation and the intolerable forces that a sensitive person had to fight to survive in South Africa circa 1960.'  Mongane Wally Serote (1975: xxx) identifies the ambiguous nature of his prose, describing Nakasa in terms of Gates's signifying monkey, writing in code to please two different audiences:
To those who had eyes to see, and ears to hear, he significantly and clearly whispered a very important message – blackman, you are being lied to.  And to whites, he put a mirror before them, and they saw a monkey jiving.  Some whites marveled at this black curio.
Nakasa's cautious, ironic style has failed, in recent years, to ignite a readership more enchanted by the racier, angrier New Journalism of his peers on Drum. Seen as a flaneur writing the city, however, I assert that his work has a new relevance; in offering an alternative to a reductionist apartheid critique he becomes more than apartheid's victim or a media icon – he is a Jo'burg man.
This article is based on Chapter 1 of my M.A. dissertation:
Tactics of the Habitat: the Elusive Identity of Nat Nakasa (Unisa, 2009)
References
Certeau, Michael de. 1984.  The practice of everyday life.  Berkeley: University of California Press.
Eagleton, Terry. 1981. Walter Benjamin, or, towards a revolutionary criticism.  London: Verso.
Foucault, Michel. 1980.  'The eye of power' in Power/knowledge: selected interviews and other writings 1972-1977.  Hemel Hempstead: Harvester Wheatsheaf.
Frisby, David.  1994. 'The flaneur in social theory' in K. Tester (ed.) The flaneur  (81-111) London: Routledge.
Frisby, David. 2001. Cityscapes of Modernity: Critical Explorations.  Cambridge: Polity Press.
Gordimer, Nadine. 1985.  'One man living through it' in The world of Nat Nakasa, (xx-xxvi). Johannesburg, Ravan Press.
Klaaste, Aggrey. 1988.  The Political Influence of Black South African Writing of the 1960s.  Pretoria: African Studies Forum.
Nakasa, Nat.  1985.  The World of Nat Nakasa, ed. Essop Patel.  Johannesburg: Ravan Press.
Schadeburg, Jurgen. 2001. The Black and White Fifties: Jurgen Schadeburg's South Africa.  Menlo Park (Pretoria): Protea Book House.
Serote, Mongane Wally. 1985. 'The Nakasa World' in E. Patel. ed. The World of Nat Nakasa. Johannesburg: Ravan.
Shields, Rob. 1994. 'Fancy footwork: Walter Benjamin's notes on flanerie' in K. Tester ed. The Flaneur. (61-81) London: Routledge.
Tester, Keith, ed.  1994. The Flaneur. London: Routledge.
Thurman, Chris. 2008. 'The less familiar faces of Bosman' in The Weekender, 9 September, 2008.
Titlestad, Michael. 2002. The acoustics of memory: historiography and alterity in representations of 1950s township jazz.  WISER presentation 27 May 2002.
http://216.239.59.104/search?q=cache:rsiRSyp5jC8J:wiserweb.wits.ac.za/PDF. viewed 28 July 2008.
---
Note:
1 Chris Thurman  (2008) makes a similar claim for Herman Charles Bosman, in his review of  'A Touch of Madness', David Butler's one-man play:  'Here we have Bosman the flaneur, walking idly through the streets of early 20th-century Johannesburg, observing its shifting urban geography and encountering its curious characters'.
---


 Inhalt | Table of Contents Nr. 18
---
For quotation purposes:
Heather Acott: Nat Nakasa: an African Flaneur —
In: TRANS. Internet-Zeitschrift für Kulturwissenschaften. No. 18/2011.
WWW: http://www.inst.at/trans/18Nr/II-5/acott18.htm
Webmeister: Gerald Mach     last change: 2011-06-21